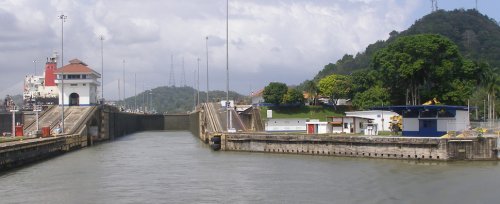 Global Trade Magazine | 11 August 2016
Panama Canal Expansion Yields Boatload of Legal Disputes
First in a Series of Arbitrations Dismissed $100 Million Claim Against Authority
Written by Peter Buxbaum
A dispute resolution tribunal in Miami dismissed a $100 million complaint for cost overruns by the consortium that built the $5.4 billion expansion of the Panama Canal. The expanded waterway was inaugurated on June 26.
But that decision was just the first in a series of disputes related to an estimated $1.6 billion in cost overruns. Each claim will be heard separately by an arbitration panel. There is also a separate dispute in the works between one member of the consortium and the Republic of Panama.
The recent decision rejected a complaint by Grupo Unidos Por el Canal (GUPC), a consortium led by Spain's Sacyr and Italy's Impregilo, asking the authority to cover cost overruns.
The origins of the dispute date back to 2013. After work on the canal expansion began in 2009, the project was $1.6 billion over budget by mid-2013. The parties reached an agreement allowing work to continue in February 2014, but some issues remained unresolved.
The first of these issues, the one which were heard by the recent Miami tribunal, revolved around a temporary dam built to keep the waters of the Pacific Ocean from the site so that work could be done on the canal.
This recent arbitration will likely be the first in a series to determine who is responsible for the total overrun costs of $1.6 billion. "The issues will be addressed claim by claim, in separate arbitral proceedings," said Sandra Friedrich, a lecturer at the University of Miami School of Law, in an interview posted on the law school's website.
Separate from all of this, one of the members of the GUPC consortium, Italy-based Salini-Impregilo, filed a notice of dispute against Panama in July 2015 under the Italy-Panama Bilateral Investment Treaty. That claim, too, Friedrich said, will likely head to arbitration.
Arbitration awards usually can't be appealed in national courts unless the process was egregiously mishandled.
"The finality of international arbitration and the relative ease of enforcing resulting arbitral awards," Friedrich noted, "are two of the main advantages of international arbitration over litigation in local courts."