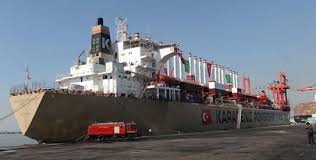 The Express Tribune - 8 December 2018
Pakistan's overseas assets at risk after court verdict
By Zafar Bhutta
Pakistan's overseas assets are at risk of being taken over as a security to enforce the verdict of an international arbitration court in the Karkey rental power case, which may lead to serious financial complications for Pakistan.
Talking to The Express Tribune, sources pointed out that the International Centre for Settlement of Investment Disputes (ICSID) started proceedings on March 23, 2018 in the case filed by Turkish company Karkey. The court gave the ruling against Pakistan on August 22, 2018, asking it to pay $760 million in damages along with interest.
Following the verdict, Karkey went to the US, UK and Germany to get the court decision enforced against Pakistan. Now, Pakistan's assets abroad are at major risk of being taken over as a security to implement the court's ruling. Earlier, Karkey had installed a 232-megawatt ship-mounted rental power plant during the tenure of Pakistan Peoples Party (PPP)-led government. It signed a rental services agreement in April 2009 under the Rental Power Policy 2008 for electricity production along with Lakhra Power Generation Company. Following the agreement, the Government of Pakistan also issued sovereign guarantees to meet payment obligations.
The Turkish company started commercial operations in April 2011 but in the meantime, the Supreme Court of Pakistan took suo motu notice of expensive rental power projects in 2012 and declared all the rental plant agreements illegal. The court also directed the National Accountability Bureau (NAB) to initiate probe into the matter which, during investigations, restricted the rental power plant carrying ship of Karkey from leaving Pakistan.
Karkey then filed arbitration claims against Pakistan in the ICSID under the Bilateral Investment Treaty (BIT). Karkey was among 12 rental power companies that were awarded electricity production contracts by the PPP government in 2009 to tackle acute power shortages.
According to NAB, the rental power ship was brought to Karachi Port in April 2011 to provide electricity to the national grid under the government's rental power policy in order to overcome the energy crisis. However, NAB said, Karkey failed to generate 231MW, as required under the agreement, although $9 million worth of capacity charges were paid to the company in advance.
The plant produced only 30-55MW and that too at a cost of Rs41 per unit, which was very expensive and a serious breach of contract. This led to a 50% increase in refund claims by the government from $80 million to $120 million.
Following the international court's ruling, Pakistan government constituted a committee tasked with negotiating with the Turkish firm and finding an out-of-court settlement to ensure minimum penalty payment compared to the $760 million ordered by the ICSID.
According to sources, Pakistan believes that government-to-government engagement could deliver desired results. However, no success has been achieved so far. Now, the Pakistan Tehreek-e-Insaf (PTI) government wants to challenge the enforcement of the court decision.