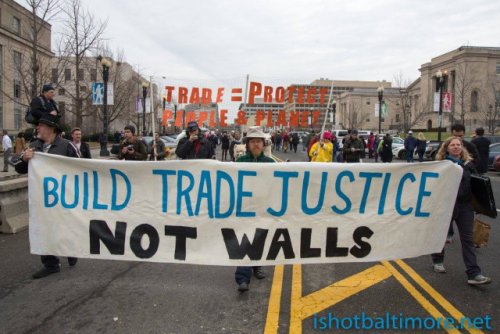 The Hill (blog) | 11 September 2017
New NAFTA must terminate corporate kangaroo courts
By Fran Teplitz and Richard Eidlin
Entrepreneurs gathering in Washington for the U.S. Chamber of Commerce Small Business Summit, please beware.
By pushing for a little-known but damaging legal concept buried in the North American Free Trade Agreement (NAFTA), the chamber has chosen to represent the interests of a handful of corporations instead of the interests of responsible business owners who are focused on the needs of their local communities and the environment.
As networks representing thousands of responsible business owners, we have advocated strongly that any NAFTA renegotiations must remove the pact's controversial provisions that incentivize job offshoring and empower foreign corporations to challenge sovereign U.S. laws.
These provisions fall under the "Investor-State Dispute Settlement" (ISDS), and they grant greater rights to foreign corporations than to domestic businesses and governments.
ISDS allows foreign corporations to sue the U.S. government before a panel of three corporate lawyers who can award the corporations unlimited sums to be paid by taxpayers, including for the loss of expected future profits.
The corporations need only convince the lawyers that an American law, safety regulation, environmental standard or court ruling violates the special rights and privileges granted to them under NAFTA.
The lawyers' decisions are not subject to appeal. Many of these lawyers rotate between serving on tribunals that decide cases and attacking governments on behalf of corporations. Such conflicts of interest are forbidden as highly unethical in most legal systems.
It's hard to believe this Orwellian power grab is real, but it is. Multinational corporations already have pocketed $392 million from North American taxpayers under NAFTA ISDS attacks on toxic bans, environmental and public health policies and more. Tens of billions of dollars are pending in ongoing NAFTA cases.
But the U.S. Chamber of Commerce has made it a top priority to urge the Trump administration to not only keep these controversial ISDS provisions in NAFTA but to expand their scope and coverage.
Given that it costs an average of $8 million for a company to bring an ISDS case, are we really expected to believe that the chamber wants to keep this provision in NAFTA for the benefit of small businesses?
A domestic U.S. business has to use U.S. courts if they want to challenge a law, so why would U.S. small businesses want to give foreign multinational corporations exclusive access to biased panels of lawyers, while exposing important local, state and federal policies to challenge?
The answer is, we wouldn't. But NAFTA was originally negotiated through a process that bestows official advisor roles to hundreds of representatives of large corporations, while the public was locked out. So it should not be surprising that the deal serves the interests of irresponsible multinational corporations and undermines domestic, responsible business interests.
That's probably why U.S. small businesses' share of total U.S. exports to Mexico and Canada has actually fallen under NAFTA while big businesses' share of total exports to the NAFTA countries has increased.
Had U.S. small firms not lost their share of exports to Canada and Mexico under NAFTA, they might be exporting $18.6-billion more to those nations today.
NAFTA renegotiations present an opportunity to reevaluate the model to focus on the needs of workers and responsible business owners who care about healthy communities, broad-based prosperity and long-term sustainability.
But if ISDS is included, we'll know that, once again, the deal was captured by irresponsible business interests at the expense of the rest of us.
Fran Teplitz is director of Green America's Green Business Network, comprised of 3,000 businesses that promote environmental best practices. Richard Eidlin is vice president and cofounder of the American Sustainable Business Council, which has a membership network representing over 250,000 businesses and 325,000 business executives, owners and investors.