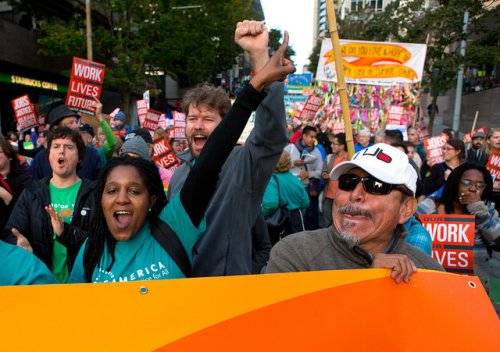 IATP | 10 May 2018
Maine state legislators endorse removing ISDS from NAFTA
By Sharon Anglin Treat
The Maine Citizen Trade Policy Commission, a legislator-run, bipartisan governmental body, recently sent a letter to U.S. Trade Representative Robert Lighthizer in strong support of his focus on limiting the Investor-State Dispute Settlement (ISDS) system, and calling for ISDS to be removed in its entirety from NAFTA. The letter noted that over the Commission's 15-year history, it had repeatedly called for eliminating ISDS from trade and investment agreements because it is an arbitrary system that favors foreign corporations, lacks accountability, is undemocratic and side-steps the judicial system established in the U.S. Constitution. The letter listed a series of policies adopted by U.S. states and localities that had been the subject of ISDS litigation, including California's ban on MTBE (a gasoline additive that polluted groundwater), tobacco regulations and state court judgments. The letter pointed to the current dispute involving the Canadian company Cooke Aquaculture, which has threatened to file an ISDS case seeking $76 million in claimed damages following the enactment of environmental laws in Washington state that would phase out Atlantic salmon aquaculture in Puget Sound.
The Maine Commission's letter is consistent with the longstanding policy of the bipartisan National Conference of State Legislatures (NCSL), the largest national organization representing state legislatures, which for decades has renewed its Free Trade and Federalism policy opposing ISDS at its annual summit. While some legislators associated with the corporate-funded and directed American Legislative Exchange Council (ALEC) recently signed a letter supporting ISDS, that position is not consistent with the position endorsed by mainstream legislators who participate in the independent NCSL. The NCSL policy states, in relevant part:
"NCSL will not support Bilateral Investment Treaties (BITs) or Free Trade Agreements (FTAs) with investment chapters that provide greater substantive or procedural rights to foreign companies than U.S. companies enjoy under the U.S. Constitution. Specifically, NCSL will not support any BIT or FTA that provides for investor/state dispute resolution. NCSL firmly believes that when a state adopts a non-discriminatory law or regulation intended to serve a public purpose, it shall not constitute a violation of an investment agreement or treaty, even if the change in the legal environment thwarts the foreign investors' previous expectations."
In 2012, 125 legislators from all 50 states signed a letter opposing including ISDS in the Trans-Pacific Partnership (TPP). The letter was circulated by state Senator Maralyn Chase, current chair of the Washington Senate Economic Development and Trade Committee. This letter, the NCSL policy and the Maine Commission's action are all consistent with the position of the Intergovernmental Policy Advisory Committee (IGPAC). IGPAC is part of the USTR's advisory committee system, where it represents the interests of state and local government. Over many administrations, IGPAC has consistently been critical of ISDS. Its report on the TPP stated: "IGPAC strongly urges that the [ISDS] mechanism be eliminated from the agreement. In addition to being concerned about cases that can be brought against the United States, IGPAC is concerned that investors from nations with well-developed legal systems appear to have abused these provisions to improperly and frivolously challenge the authority of developing country governments at both the central level and sub-central level."
Maine is not alone challenging trade policy status quo
Why has Maine been so active on trade policy? The press conference held in support of the legislation creating the Commission–the Maine Jobs, Trade and Democracy Act-with its litany of outsourced jobs and plant closings, gives a flavor of the times when the legislation passed in 2003. The Commission has endured through economic ups and downs, changes in political fortune and shifting legislative control, operating mostly by consensus–perhaps reflecting a political consensus on trade policy in the state itself.
But Maine isn't alone in establishing a commission or legislative committee to provide a forum for reviewing trade policy and advising state and federal officials. Washington state's Joint Legislative Oversight Committee on Trade Policy was established in 2003 to monitor the impact of trade agreements on Washington state laws. The Vermont Commission on International Trade and State Sovereignty is a longstanding and robust entity that has weighed in on many trade policy issues, including ISDS, international interference with state chemical legislation, and a proposed EU trade deal that is currently on hold. Utah's International Relations and Trade Commission has been active for more than a decade, taking on issues including protecting the state's authority to regulate gambling in the face of WTO decisions related to online gambling. More recently, Minnesota established a Trade Policy Advisory Council to advise and assist the governor and legislature "on issues related to United States trade agreements and assesses the potential impact of federal trade agreements on the state's economy." Legislative committees on trade have also been established in Illinois, Massachusetts, Michigan, Texas and Wisconsin.
In addition, many of these and other states have refused to be bound by trade agreements that would open up state public procurement to foreign investors. These states want to protect their authority to determine procurement policy, both to support small and minority business opportunities and local policy priorities, such as renewable energy and farm-to-institution programs, and because of concerns that imported products may be produced under unsafe and inhumane conditions. Indeed, Maine led the nation by passing the nation's first anti-sweatshop purchasing law in 2001, requiring companies selling clothing and apparel to the state government to certify that the factories they use meet basic workers' rights standards set out in international treaties. Maine's legislation creating the trade commission was part of this ongoing effort to promote ethical purchasing.
With NAFTA 2.0 negotiators working around the clock to finalize a deal, legislators from these and other states will be keeping a close eye on what any final agreement includes. Foremost among the issues of interest will be ISDS. State legislators regardless of political party have repeatedly expressed their opposition to ISDS. They will likely make their voices heard when the final text is released publicly, if ISDS has not been either completely removed or significantly cut back.
Note: This is the first part of a series on the Maine Citizen Trade Policy Commission. IATP's Sharon Treat serves on the commission as a citizen member representing environmental interests.