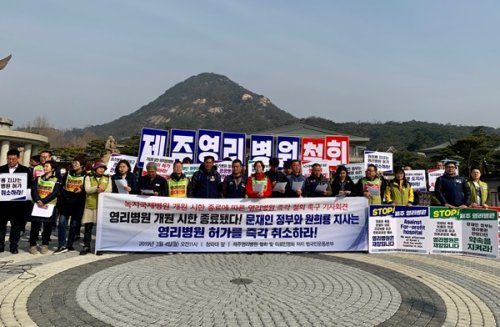 Pulse | 5 March 2019
Koreas first for-profit hospital in Jeju faces license revocation}} By Lee Byung-moon and Minu Kim A for-profit medical facility may become another business concept that cannot penetrate into the Korean market as what would have been the first for-profit hospital in Jeju island may never open due to local regulations and civilian opposition. The Jeju Special Self-Governing Provincial Government has begun a process to call off the operating license because the medical center failed to open by the date designated by law. The Korea government may face another investor-state dispute case from the Chinese capital if the license is called off, adding woes to the country that has been already embroiled in confidence-staking lawsuits filed by foreign investors. Greenland International Medical Center invested by Shanghai-based Greenland Group was built in resort island Jeju in Korea under the Free Economic Zone Act introduced in 2002 under the exception made for for-profit medical facility in free trade zones. The company finally gained approval on Dec. 5, 2018 under the condition that it only treats foreign patients after a year-long delay due to protests from civic groups and Korean medical doctors against for-profit medical services. In February, Greenland Group filed a lawsuit to demand the court lift the Korean governments ban on offering medical services to local patients, arguing the ban is illegal and it would be unable to make ends meet under the restrictive business condition.
After postponing the opening, the hospital group on Feb. 26 officially requested the local government to extend the deadline, but the local government declined it.
According to the country`s medical law, hospital operating license can be revoked if a hospital fails to open within 90 days after the license issuance. Because Greenland International Medical Center was not able to open until the deadline, March 4, Jeju will embark on the process to revoke its operating license, said the provincial government during a press briefing on Monday.
The provincial government is now planning to hold a public hearing as the first step to nullify its approval of the hospital. Greenland Group can give its account on its operating plans during the hearing that would take about a month. Whether the conditional approval was legitimate would be the most contested issue during the hearing.
The legal community says there will be a big fallout if the cancellation is finalized as Greenland Group would appeal to a rescue strategy under the Investor-State Dispute Settlement and the Korea-China free trade agreement. Greenland Group invested about 1.6 trillion won ($1.42 billion) into the hospital and a project to establish Jeju Healthcare Town for medical tourism. If the project is derailed, former land owners may also file suits to demand the return of land that was handed over to the government without full discussion.