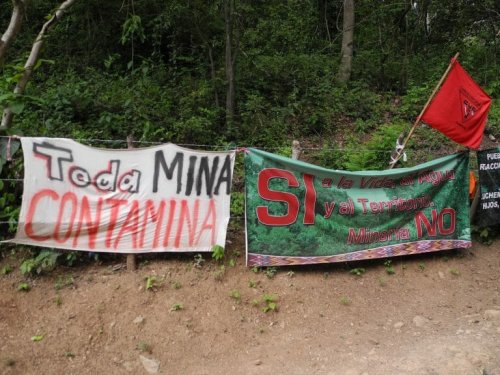 Inequality.org | 2 March 2022
Guatemalan water defenders celebrate 10 years of resistance
by Jen Moore
In Central America, as in many other parts of the world today, communities are being thrust into life and death struggles up against powerful interests to ensure clean water and health for their future generations. This is often the case where mining companies seek to dig up gold, silver, iron ore or other metals and minerals, disrupting or destroying precious water supplies in the process, and leaving behind massive quantities of toxic waste on the land.
With national and international laws designed to privilege such harmful activities in the name of so-called development and progress, it is vital to celebrate the milestones of people fighting against all odds to protect their lives and lands from such threats.
Today, March 2, many will honor the life of Berta Cáceres and reaffirm their commitment to the fight for justice for her brutal murder in her home six years ago. Her leadership in the resistance to megaprojects in Honduras, including a hydroelectric dam and mining concessions on Indigenous Lenca territory, continues to inspire many. Today also marks ten years of inspirational, peaceful resistance to gold mining at a place known as La Puya, just north of Guatemala City. The freedom of eight water defenders in Tocoa, Honduras is also being celebrated this week where there are important signs that resistance to mining is gaining traction at the national level following the inauguration of President Xiomara Castro.
A Decade of Water Defense in Guatemala
Celebrating ten years of resistance in Guatemala, the Peaceful Resistance "La Puya" began on March 2, 2012 with a 24-hour protest camp in front of the entrance to a gold mine site operated by Nevada-based mining company Kappes, Cassiday & Associates (KCA) just north of Guatemala City. This week, over fifty Guatemalan and international organizations sent their congratulations to La Puya for its tenacious and ongoing struggle.
Over the course of the past decade, as a result of their resistance, members have suffered acts of intimidation, an attempted assassination, criminalization, as well as a violent eviction in May 2014 in order to enable the mine to start operating.
According to Guatemalan courts, KCA's operations were always illegal. The company never had local support, lacked a construction license to build the mine, and violated environmental regulations. Legal action led to the mine suspension in 2016, upheld by the Constitutional Court in 2020, until which time a consultation has been undertaken with the community.
Despite having failed to respect Guatemalan law and much less the communities' human rights, KCA is now suing the state of Guatemala for over $400 million dollars at the International Centre for Settlement of Investment Disputes (ICSID) under the terms of the Dominican Republic-Central America Free Trade Agreement with the U.S. (DR-CAFTA). KCA's case against the Guatemalan government is part of an increasingly common strategy used by transnational corporations to bully foreign governments into approving projects that lack community support or otherwise extract their profits through compensation.
In its arbitration defense, despite the Guatemalan government having backed the company to get the mine up and operating in 2014, it acknowledges the legitimate resistance of La Puya to protect already scarce water supplies from contamination and depletion. It also argues that the company's environmental impact study was incomplete, failed to abide by Guatemalan standards, let alone international norms, and never should have been approved. Meanwhile, the Guatemalan government also claims that the company failed to abide by at least 50% of its environmental obligations according to national regulations.
The Guatemalan defense team even goes so far to recognize that the injustice of this case is further evidence of the injustice of the international arbitration system: "The people of Guatemala should not now be asked to pick up the tab for Claimants, if at all that they suffered any business losses. Otherwise, this Tribunal would be rewarding an imprudent investor at the expense of causing doubt on the fairness of the investor-state dispute settlement system."
It is only the stalwart persistence of the Peaceful Resistance La Puya and their careful documentation of their struggle and the company's violations that have kept mining out of their communities so far and brought these local and international injustices to light.
Hard Fought Freedom for Defenders in Honduras
In Honduras, late the night of February 24th, six water defenders were finally reunited with their families after being illegally held for two and a half years in pretrial detention. Two other water defenders were released earlier in February.
Their crime? Having participated in peaceful protests against contamination of their rivers from an open-pit iron oxide project operating within a protected area upstream of the water they rely on. After two and a half years of legal work and campaigning to build support for the freedom of the water defenders, including from solidarity groups, faith, environmental and human rights organizations, as well as UN bodies, the men were finally released. They were received with fireworks, applause, and hugs from their family members, supporters and members of the Municipal Committee in Defense of the Commons and Public Goods of Tocoa, recipient of the recipient of the 2019 Letelier-Moffitt International Human Rights award.
Honduran company Los Pinares Investments holds two mining concessions within the Carlos Escaleras National Park, the headwaters of 34 rivers. In 2013, the limits of the central area of the park were redrawn so that the project would remain within the buffer zone in which such mining is permitted. The company, owned by Honduran elite that enjoyed a cozy relationship with the now former dictatorship of Juan Orlando Hernández – recently arrested for his narcotrafficking ties –, has received investment from the large US steel company Nucor. Nucor reported ending its investment in the project in 2019, but two of its executives still appear as directors of a Panamanian subsidiary that is part of the Honduran business group.
The Municipal Committee continues to challenge the illegality of the iron oxide project, which went into operation in 2021. It is possible that with the recent inauguration of Honduras' first female President Xiomara Castro that their complaints seeking the project's closure could gain traction.
Notably, prior to being ousted in a military backed coup in 2009, under Castro's husband and former president Mel Zelaya, a proposed bill was awaiting debate that sought to prohibit open pit mining and put other constraints on this toxic activity. This bill came about as a result of the difficult struggles of movements and mining-affected communities in Honduras, such as in the Siria Valley where communities faced health harms from the San Martín gold mine, owned by Goldcorp (now Newmont).
In echo of this earlier proposal, on February 28, the Honduran Secretary of Energy, Natural Resources and Mines issued a communiqué stating that no further permits will be issued for extractive projects as a result of being a threat to public health, water and natural resources, declaring Honduras free of open pit mining. The statement further indicates that the authority will "proceed with the review, suspension and cancelation of environmental licenses, permits and concessions."
While applying such measures to existing mining projects and permits in the country is sure to face a fight and require continued organizing from Honduran water defenders and their allies, this declaration is potent evidence of the tremendous efforts that have already taken place by land and water defenders on the frontline.
Celebrating water defenders and their long-term struggles is part of learning from one another. While La Puya and many other communities in Guatemala continue to stave off precious metal mining, as Hondurans forge a path to be mining free, and as the Salvadoran people also fight to maintain their ban on metallic mining since March 2017, they remind us about how through collective efforts and tenacity important victories can be won for the health of people and the planet.
Jen Moore is an Associate Fellow of the Institute for Policy Studies