All the versions of this article: [English] [Español]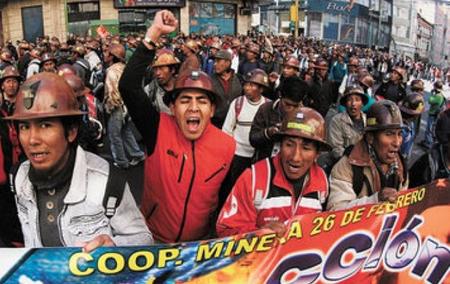 BNamericas | 5 August 2016
Glencore begins arbitration over Bolivia assets expropriation
Swiss trader Glencore filed for arbitration against the Bolivian government for the expropriation of its mining and smelting assets, adding to a series of lawsuits against the Andean country.
Glencore initiated proceedings over the nationalization of its Vinto tin and antimony smelting operations and Colquiri silver-tin-zinc mine, the Bolivian attorney general's office said in a statement.
The company resorted to "manipulation" of the investment protection system by using its Bermuda-based Glencore Finance unit to qualify for an agreement signed with the UK instead of a Bolivia-Switzerland treaty, the office said
"The award of the smelter and leasing of the Colquiri mine were carried out in highly dubious circumstances," the office said. "All these unclear aspects led the State to take the decision to recover these assets in the public interest."
President Evo Morales, who first took office in 2006, seized the Vinto tin smelter in 2007, followed by the Vinto antimony operation (2010) and Colquiri (2012), part of a wave of expropriations that have included mining, oil, electricity, water and telecommunications companies and airports and pension funds. Morales was sworn in for a third consecutive mandate last year.
The Bolivian government has until August 18 to respond.
A Glencore spokesman did not immediately reply to an e-mail seeking comment.
Bolivia has faced at least 18 arbitration proceedings since 2006 as a result of expropriation of assets of companies including Jindal Steel & Power, Rurelec, South American Silver, Pan American Energy, Spain's Abertis and Iberdrola and Chilean firm Quiborax.