San Francisco Chronicle | Thursday, March 11, 2010
Chevron wins bid for Ecuador arbitration
David R. Baker, Chronicle Staff Writer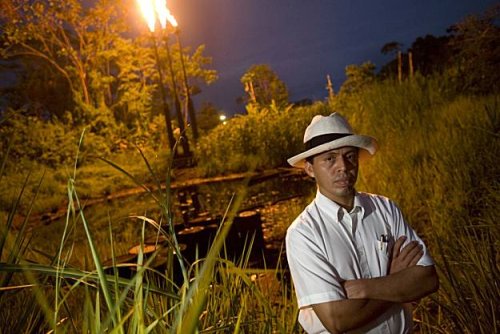 Chevron Corp. won a round Thursday in the long legal fight over oil-field contamination in Ecuador, with a U.S. judge ruling that the company can pursue arbitration in the case.
But the final outcome of the fight, which could cost Chevron $27.3 billion, remains very much in doubt.
Residents of Ecuador's rain forest are suing Chevron over polluted soil and water, saying contamination from oil wells has sickened and killed people. Chevron argues that the trial, held in the Ecuadoran town of Lago Agrio, has been tainted by government interference and possible corruption.
So last year, Chevron filed an international arbitration claim against the Ecuadoran government, asking an arbitration panel to hold the government and its state-run oil company, Petroecuador, responsible for cleaning up the country's oil fields.
In response, the Ecuadoran government and the lawsuit's plaintiffs asked a U.S. court to block the arbitration request, which they saw as Chevron's last-ditch attempt to derail the lawsuit. The company, plaintiffs said, feared losing in Ecuador and was "shopping" for a friendlier forum.
On Thursday, U.S. District Judge Leonard Sand rejected their request, saying Chevron's arbitration bid could proceed. Chevron, based in San Ramon, welcomed the ruling.
"Only the international arbitration panel can bring Ecuador to the table and compel Petroecuador to do the right thing and clean up its oil fields," said R. Hewitt Pate, Chevron's general counsel. "With today's decision, we are one step closer to making that a reality."
Steven Donziger, an attorney who represents the Ecuadorans suing Chevron, complained that the lawsuit's plaintiffs won't be able to participate in the arbitration proceeding, which will only involve Chevron and the Ecuadoran government. The plaintiffs, he said, will push forward with their lawsuit, regardless.
"In the end of the day, a public court will decide the claims of the victims, and if they receive a favorable judgment against Chevron, we expect to enforce it in countries where the company has assets," Donziger said.
Thursday's ruling was just the latest turn in a closely watched case already known for its complexity and marathon length. The first version of the lawsuit was filed against Texaco in 1993, and Chevron inherited the suit when it bought Texaco in 2001.
Texaco pumped oil in Ecuador from 1964 to 1992, working in partnership with Petroecuador. When Texaco left, it signed an agreement with the government to clean up a portion of the oil fields, leaving the rest to Petroecuador. The state-run company still operates oil wells in the area.
Chevron says the agreement releases the company from any future liability for cleaning up the oil fields, a key argument in the company's arbitration request. The plaintiffs in the lawsuit say the agreement does not preclude suits filed by citizens - only suits from the government. They also contend that Texaco performed shoddy cleanup work, a point Chevron disputes.