Financial Times | September 24 2009
Chevron takes Ecuador fight to arbitrators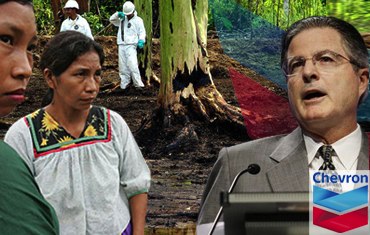 By Sheila McNulty in Houston
Chevron, the world's third biggest oil company, said it had filed an international arbitration claim against the government of Ecuador, citing violations of the country's obligations under the US-Ecuador bilateral investment treaty, investment agreements and international law.
The claim stems from what Chevron calls Ecuador's "exploitation'' of a lawsuit filed against Chevron, which accuses Texaco, which Chevron bought in 2001, of leaving an environmental disaster upon withdrawing from Ecuador in 1992.
Chevron has been aggressively defending itself against the lawsuit, in which plaintiffs are seeking $27bn in damages. The company demanded the removal of the judge, Juan Nunez, after releasing videos it claimed contained evidence of political interference and corruption in the country.
Chevron said the tapes allegedly showed Judge Nunez revealing he planned to rule against Chevron. Judge Nunez has denied wrongdoing but offered to recuse himself.
Ecuador has said it will investigate, but Ecuadorian courts on Wednesday said the judge's request to recuse himself was "unfounded'' and put him back on the case.
Chevron filed the arbitration claim before the Permanent Court of Arbitration in The Hague, under the rules of the United Nations Commission on International Trade Law, citing the Ecuador government's failure to uphold its duties under decade-old contracts.
Chevron said Texaco spent $40m on cleanup, and the Ecuador government released it in writing from further responsibility as part of a settlement agreement.
But the plaintiffs representing the surrounding Amazonian communities charge that agreement did not release Chevron from third-party claims.
"Because Ecuador's judicial system is incapable of functioning independently of political influence, Chevron has no choice but to seek relief under the treaty between the United States and Ecuador,'' Chevron said.
Chevron noted in filing for arbitration that in February 2009, the US Department of State released its Investment Climate Statement for Ecuador, which noted ``systemic weakness and susceptibility to political or economic pressures in the rule of law constitute the most important problem faced by US companies investing in or trading with Ecuador.''
Ecuador has denied any wrongdoing in the case.