Todas las versiones de este artículo: [English] [français]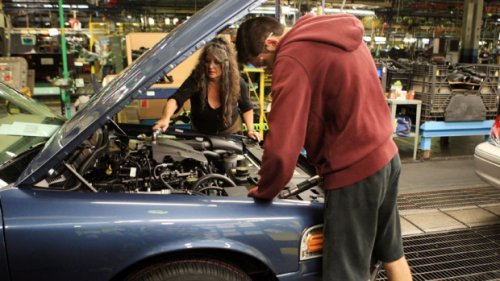 iPolitics | 29 January 2018
Canadian NAFTA auto rules of origin idea 'opposite' of US goals: Lighthizer
By Kelsey Johnson
U.S. Trade Representative Robert Lighthizer says a Canadian proposal on rules of origin for automobiles is "the opposite of what we were trying to achieve."
"We find that the automobiles rule of origin idea that was presented when analyzed may actually lead to less regional content than we have now," Lighthizer said. It will likely lead to "fewer jobs" across North America.
U.S. officials clashed with Canadian and Mexican counterparts during the fourth round of negotiations in October when they demanded that half of the value content of all North-American-built autos be produced in the United States. The regional vehicle content requirement, the Americans demanded would also be sharply increased to 85 per cent from the current 62.5 per cent.
Canadian officials floated some "creative" ideas earlier in this sixth round that, if accepted, would change the way the amount of North American automobile content is calculated and provide the U.S. with Chapter 11 (investor-state dispute resolution) opt-out options.
Instead of just counting the country of origin for mechanical parts, the Canadian idea would include intellectual property and emerging technologies in rules of origin for automobiles — which would inflate the percentage of U.S. content given American research dominance.
Discussions around rules of origin – which Lighthizer criticized heavily Monday – is expected to continue next round.
Until Monday, it was unclear how American negotiators had accepted those suggestions, since they were not tabled as formal proposals. The U.S. position on investor-state dispute settlement remains unclear.
The American response on automobile rules of origin does not sit well with Canada.
"Our job is not to cause the dismantling of cross-border supply chains that have made our auto industry the envy of the world," Canada's Foreign Affairs Minister Chrystia Freeland said in her closing statement on Monday.
"It is not to introduce more-or-less permanent uncertainty into our investment and business climate. It is not to weaken North American competitiveness, when we should be building it up," she said.
Mexico's Economy Minister Ildefonso Guajardo thanked Canada for putting forward ideas in several areas that were designed to try and move the trade talks forward.
Speaking to reporters Monday afternoon, Freeland thanked Mexico for their "positive response" and said the idea has also generated a "good response" from industry and labour.
Rules of origin wasn't the only Canadian proposal Lighthizer criticized Monday.
"In another proposal, Canada reserved the right to treat the United States and Mexico even worse than other countries if they enter into other agreements. Those other countries may in fact even include China, if there is an agreement between China and the United States.
"This proposal, I think if the United States had made it, would be dubbed a 'poison-pill.' We did not make it, though. Obviously this is unacceptable to us and, my guess is, it is to the Mexican side also."
Freeland told reporters the proposal in question has to do with the Services chapter.
"What has happened on services is that Canada's initial proposal at the beginning of the negotiation was to offer expanded access in services in NAFTA," she said.
"The U.S. position was to actually restrict opportunities in services trade," she said. Canada responded and told their American counterparts they would need to do the same if the American position was adopted.
"Canada doesn't believe in making one-way concessions."
Negotiating teams from all three countries have been in Montreal since Jan. 21 for the sixth round of North American Free Trade Agreement negotiating talks. Ministers arrived Sunday.
Talks had been at an impasse going into this round after American officials stunned Canadian and Mexican officials with a series of "poison pill" demands around rules of origin for automobiles, Canada's supply management system and dispute resolution.
While "significant" challenges remain, all three ministers said some progress has been made this round.
"This round was a step forward, but we are progressing very slowly," Lighthizer said. "We owe it to our citizens who are operating in a state of uncertainty to move much faster."
On Sunday, A delegation of American congressmen from the U.S. House Ways and Means Subcommittee on Trade toldreporters the committee was "optimistic" a renegotiated NAFTA could be reached.
Committee members met with Lighthizer over the weekend.
"I think from trying to evaluate his words today, I would say that he recognizes there's a great deal of work to be done but he's hopeful," Chairman Dave Reichert said Sunday.
Guajardo confirmed Monday that negotiators have successfully concluded a NAFTA chapter on anti-corruption.
He told reporters it is the first time an anti-corruption chapter, which he called "a very important one for Mexico," has been included in the NAFTA agreement.
Chapters on telecommunication, digital trade, and sanitary measures are near completion, Guajardo said. All three are expected to close in the upcoming Mexican round.
"Good progress" has also been made on customers and trade facilitation and technical barriers to trade, Freeland said. "We have started to really make progress on the bread and butter trade issues."
Negotiating rounds are scheduled up until March. A seventh round of negotiations is planned for late February in Mexico City.
Freeland said Monday an eight round is planned in Washington, D.C.