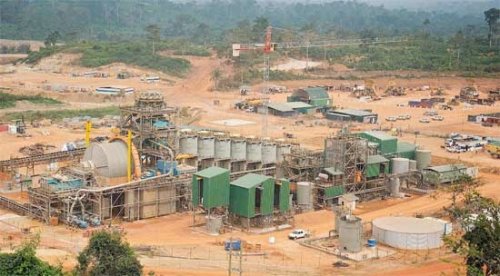 Ghana Web | 8 June 2016
AngloGold suit against gov't unnecessary - Ayikoi Otoo
AngloGold Ashanti's decision to sue government at the International Centre for Settlement of Investment Disputes (ICSID) over security concerns at its Obuasi concession has been described as "surprising" by private legal practitioner and former Attorney General, Ayikoi Otoo.
AngloGold dragged the government to the ICSID because of the latter's perceived inability to enforce law and order at the Obuasi mine which has been encroached by illegal miners (galamsey).
The mining conglomerate has argued that the encroachment of its Obuasi mine by the galamsey operators is impacting negatively on its operations.
Last week, the Senior Vice President at AngloGold in charge of Investor Relations and Group Communications, Stewart Bailey, revealed to Citi News that Anglogold had tried fruitlessly for about three months to resolve the matter with government.
AngloGold have gone too far
But the former Attorney General feels the company may have gone too far with its decision to involve the ICSID given its contract with government contained no such provisions.
Speaking to Citi News, Mr. Ayikoi Otoo said, "It is surprising that such a matter should be going to international arbitration. If the contract says that in the event of a misunderstanding, the matter ought to be referred to international arbitration, then so be it if they think there is sufficient misunderstanding. But otherwise, it is more to do with some criminality."
Mr. Ayikoi Otoo instead suggested that this should have been handled as "more of an internal matter" adding that AngloGold could have turned to the security agencies for support in dealing with the issues of encroachment.
According to him, "If it is just some galamsey disturbing them, which by definition is not more than illegal mining in somebodies concession and if the concessionaire alone cannot act then he calls on the security agencies to clear of those persons."
Encroachment left one dead at Obuasi
AngloGold did have significant security presence at their Obuasi mine but this did not prevent its Head of Communications, John Owusu from losing his life following a fracas with some encroaching illegal miners.
John Owusu was killed after he was run over by a company car in an attempt to escape from the illegal miners who attacked him and his colleagues.
The deceased and the other AngloGold officials had gone to one of their mining sites at Obuasi which had been invaded by illegal miners who attacked them with stones. This led to AngloGold suspending all its operations outside the provision of essential services.
Security at mining concessions inadequate
Citi News checks months after the death revealed that military personnel assigned to the mining site are only protecting the sub entrances to the underground mines as they had ceased the erstwhile flushing out of the illegal miners encroaching on AngloGold concessions.
Numerous meetings between AngloGold executives and representatives at all levels of Ghana's government failed to see a return of supplementary security to the mining company's Obuasi concession.
Critical equipment lost
The invasion of illegal miners at the Obuasi mine has also led to the destruction of electrical installations at the underground mine. This consequently compromised the water treatment plant of the company.
Managing Director and General Manager of the Obuasi Mine, Eric Asubongteng lamented how "the illegal miners continue to operate with impunity on the richest part of the ore body".