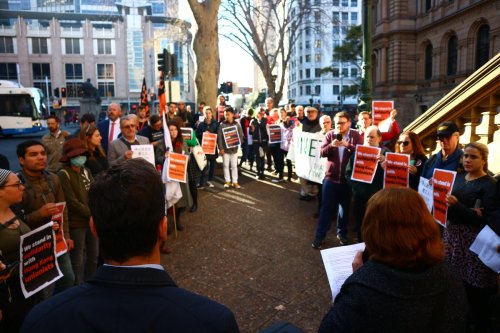 AFTINET - 17 October 2019
AFTINET fears that assurances sought by Labor will not prevent harmful impacts from Indonesia and other trade deals
"Labor has decided to approve the enabling legislation for the Indonesia, Hong Kong and Peru agreements despite the fact that they contain damaging provisions that are contrary Labor policies, in return for some fairly weak assurances from the government that may not be delivered," AFTINET Convener Dr Patricia Ranald said today.
"Organisations representing millions of Australians wrote to Labor MPs last week asking them to implement their policies against harmful proposals including special rights for foreign investors to sue governments for millions over domestic laws, known as ISDS, and increases in the numbers of vulnerable temporary workers. Recent polling shows 75-80% community opposition to the inclusion of ISDS and increased numbers of vulnerable temporary workers in trade agreements," said Dr Ranald.
"The assurances sought from the government do not change the text of the agreement. On ISDS, they ask the government to seek separate termination of the old Indonesian Bilateral Investment Treaty, which is welcome, and should have been part of the new agreement" said Dr Ranald.
"But the assurance of a review after 5 years of the efficacy of the modern "safeguards" for ISDS in the Indonesia agreement does not change the fact that the agreement only clearly excludes cases in areas of public health like the PBS and Medicare. The more general "safeguards" in the new Indonesia and other agreements do not prevent corporations from taking cases against other public interest polices, like the environment or workers' rights. Even if governments win cases, they take years and millions of dollars to defend. Defeating the Philip Morris case against Australia's plain packaging law cost taxpayers $12 million," said Dr Ranald.
"The assurance sought on temporary workers is only the implementation of existing workplace laws, which are not currently effective in preventing the wage theft and other exploitation of vulnerable temporary workers who are tied to one employer and can be deported if they lose the job"; said Dr Ranald.
"The government is only asked to 'give close consideration' to independent modelling of the costs and benefits of future trade agreements," said Dr Ranald. This is a basic evaluation process supported for many years by community organisations and the Productivity Commission. We welcome the request for a more general review of the transparency of the trade agreement process," said Dr Ranald.
"However, only time will tell if the government will deliver on any of these requests" said Dr Ranald