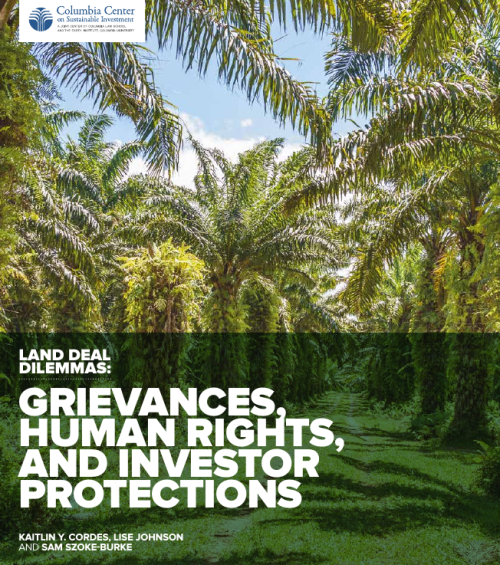 Earth Institute (Columbia University) | 16 March 2016
Navigating governments' obligations in the context of land investments
By Kaitlin Y. Cordes and Sam Szoke-Burke
How should governments address the concerns of their citizens tied to land investments? And do their legal obligations constrain their options for doing so?
These are increasingly complicated, and pressing, questions. The "land rush" since the turn of the century has resulted in numerous grievances on the part of local individuals and communities harmed by investments in agriculture, forestry, and other resource projects. These types of grievances are not new. However, governments are under increasing pressure to ensure that investments are responsible and sustainable; at the same time, they confront foreign investors that, in other sectors, have shown a growing willingness to sue governments under investment treaties for things like failing to meet the investors' "legitimate expectations."
A new report by the Columbia Center on Sustainable Investment (CCSI) explores the dilemmas posed by this complex situation, and offers options for government responses to the "land grievances" raised by local individuals or communities. As the report explains, weighing the practical and legal risks—including potential liability for large compensation awards—is important, but such risks should not be an excuse to ignore citizen concerns or neglect human rights.
Aggrieved communities and a complex web of legal obligations
As we researched this report, we found a number of grievances tied to land-based investment. These ran the gamut from anger over pollution to conflict that erupted after forced evictions. We also found good reasons for governments and investors to take these concerns seriously: grievances can lead to protests, litigation, international advocacy campaigns, or violent conflict, which in turn create reputational, legal, and/or financial risks.
Yet governments hosting land-based investments often confront obstacles to effectively addressing these grievances. Apart from pragmatic considerations, including a lack of clarity over solutions and opposition from within or outside of government, governments are also bound by different types of laws and agreements, which can create competing obligations and risks of legal liability for certain actions.
In many countries, for example, the government will enter into an investment contract with the investor. In some cases, such a contract will complement domestic law. In other cases, however, it may seek to limit whether domestic laws apply to the investment by "stabilizing" the contract from any subsequent law reform. At times, this may narrow a government's ability to improve the environmental or social protections applying to that particular investment.
A government bound by an investment treaty may also be required to protect covered investors, including by affording them "fair and equitable treatment." Some arbitrators (the equivalent of a judge in arbitration) have interpreted this in a way that effectively creates new property rights that do not otherwise exist in domestic law. For instance, if the investor can prove it formed a "legitimate expectation" that the investment would proceed, a court decision that finds that an investor's concession under domestic law is not valid could be taken to contravene such an expectation, giving the investor grounds to claim compensation from the government. This is what happened in a case against Romania: the investor sued the government, arguing that its "legitimate expectations" had been violated by a judgment issued by the country's Constitutional Court that invalidated a national law granting a concession. The arbitration tribunal ordered the government to pay 7.7 million euros in compensation to the investors.
Investment treaties are not the only type of international law binding governments. Many land-based investments also raise human rights concerns, and governments are legally obligated to respect and protect human rights. At times, these obligations may appear to conflict with obligations under an investment contract or investment treaty. For instance, if a lease has been granted over land that is already inhabited, the commitments a government undertakes in that agreement may conflict with its obligations to protect and respect the rights of those displaced by the ensuing investment, such as their rights to property, housing, food, and water.
Responding to community grievances
Particularly in light of these competing legal obligations, a government confronting land grievances may struggle to assess how it can best address its citizens' concerns regarding ongoing investments while also minimizing risks of potential liability. And to date, there has been little guidance provided for governments grappling with this situation.
CCSI's report helps fill this gap by laying out options, as well as accompanying considerations, for addressing land grievances after investments have been undertaken. As stakeholders gather this week at the World Bank Land and Poverty conference to focus on scaling up responsible land governance, the issue of how to ensure that existing land investments are responsible is one piece of the puzzle that requires further attention.