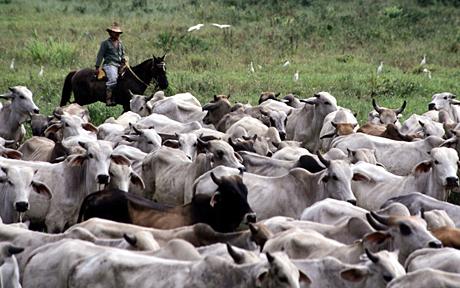 The Guardian | 22 April 2016
British Vestey Group wins $100m battle with Venezuela over cattle ranches
An international arbitration centre has ordered Venezuela to pay the British cattle company Vestey Group nearly $100m for the nationalisation of cattle ranches.
Venezuela's late president Hugo Chávez in 2005 sent in soldiers to seize major ranches and repopulate rural areas largely abandoned since Venezuela's oil industry took off in the 1920s.
Chávez's nationalization drive, which also included the energy and steel industries, has landed Venezuela in dozens of major arbitration disputes, many of which have come to fruition in recent years.
The latest decision by the International Centre for Settlement of Investment Disputes (ICSID) comes as the OPEC member reels from a tumble in oil prices.
ICSID ordered Venezuela to pay US$98m plus interest, the Reuters news agency said, citing a copy of the award
Venezuela has sought to annul or challenge several recent arbitration disputes.
Diego Brian Gosis, a lawyer for Venezuela, said the next steps were still being analysed but Venezuela was likely to seek to annul part or all of the award.
Vestey Group, a meat products company owned by Britain's aristocratic Vestey family, began operations in Venezuela at the start of the 20th century and formerly had large cattle property holdings in numerous countries including Australia, where it was famously at the centre of a land rights dispute with the Indigenous Gurindji people.
Chávez handed a thousand farmers the vast nationalised cattle lands, though many who came hoping to grow arable crops found their harvest wiped out by flooding. Critics of Chávez's drive to break up big ranches say most of them are in swampy plains only suitable for cattle raising.
With Reuters