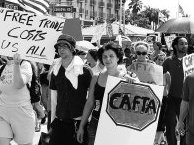 El Tratado de Libre Comercio entre Centroamérica, Estados Unidos y República Dominicana (conocido como CAFTA-DR, o CAFTA, por sus siglas en inglés) fue firmado en 2004 e incluye a los países centroamericanos de Costa Rica, El Salvador, Guatemala, Honduras, Nicaragua y la República Dominicana. Los mecanismos ISDS especificados en el CAFTA le proporcionan a las compañías estadunidenses, medios privilegiados para desafiar las leyes nacionales y reclamar millones de dólares en compensación en sus disputas en Centroamérica. (Estados Unidos sólo ha sido desafiado una vez y el caso sigue en disputa.
Para finales de 2019, el CAFTA se invoco en 11 casos.
Los casos más conocidos incluyen:
• TCW (EUA) vs República Dominicana Rica: caso arreglado en 2009 por 26.5 millones de dólares al inversionista, una corporación de administración de inversiones.
• Railroad Development Corporation (EUA) vs. Guatemala: 18.6 millones de dólares se concedieron en 2012 al inversionista en una disputa relativa a un contrato de ferrocarriles.
• Pac Rim Cayman LLC (EUA) vs. El Salvador: En 2008, El Salvador negó un permiso de minería a Pac Rim (ahora Oceana Gold) debido a preocupaciones ambientales, sobre todo los impactos sobre los recursos acuáticos. En 2012, el tribunal de arbitraje desechó la jurisdicción del CAFTA pero asumió la ley de inversión local. En octubre de 2016, el tribunal decidió que el caso no tenía mérito
Foto: Danny Hammontree / CC BY-NC-ND 2.0
(marzo de 2020)
National Law Review | 24-oct-2019
This case involves a dispute between TECO, an energy company incorporated in the United States, and the Republic of Guatemala, over electricity rates.
Nevada Capital News | 29-may-2019
In December of 2018, KCA filed a $300 million-dollar arbitration claim against the government of Guatemala under CAFTA-DR.
CIAR Global | 14-dic-2018
El conflicto está relacionado con la suspensión del proyecto de minería de oro Tambor, en San José del Golfo y San Pedro Ayampuc, y la reclamación estaría cifrada en 300 millones de dólares.
Prensa Libre | 24-may-2018
Guatemala se expone a un nuevo arbitraje internacional con posibilidad de una demanda millonaria debido a la suspensión de operaciones del proyecto minero El Tambor, propiedad de Exmingua.
BN Americas | 24-may-2018
Exmingua is planning to launch arbitration proceedings against Guatemala following the suspension of its Tambor gold project.