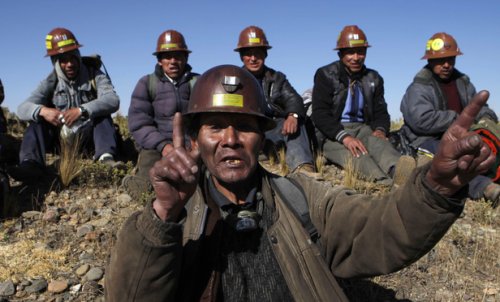 Daily Business Review | 16 Aug 2016
Glencore begins arbitration against Bolivia over mine nationalization
Monika Gonzalez Mesa, Daily Business Review
Glencore International has notified Bolivia that it has begun arbitration proceedings over its investments in two smelters and a tin mine nationalized between 2007 and 2012.
Bolivia's measures were part of Bolivia's nationalization program that affected several other sectors, including the oil and gas, telecommunication, water and electricity sectors.
Glencore seeks compensation for the nationalization of Glencore's investments in two smelters in Vinto, Bolivia: a tin smelter nationalized in 2007 and an antimony smelter nationalized in 2010. The Bolivian state-run tin producer, Empresa Metalúrgica Vinto, was itself expropriated from Glencore in 2007.
The tin mine Colquiri, 125 miles south of La Paz, was nationalized in June 2012 following weeks of fighting between independent and unionized miners over control of the site. The fighting continued for months with independent miners hurling sticks of dynamite at union workers and both sides throwing rocks at each other in La Paz into September of that year. Glencore was in the midst of renegotiating its mining contracts with Bolivia.
"During the past nine years, Glencore has met on numerous occasions with the Bolivian Government with the aim of amicably settling the dispute regarding the nationalizations," said Noiana Marigo, an international arbitration partner at Freshfields Bruckhaus Deringer in New York. "However, despite Glencore's efforts, the parties have been unable to reach an amicable settlement of the dispute. To date, no compensation has been paid by Bolivia for these nationalizations, in breach of both international and Bolivian law."
Glencore said it therefore decided to resort to arbitration to settle the dispute. The company has not yet quantified the value of its claims against Bolivia.
The arbitration has been filed under a bilateral investment treaty that Bolivia still has with Switzerland, where Glencore is based. However, According to the United Nations Conference on Trade and Development, since 2009, Bolivia has terminated bilateral investment treaties with nine countries since 2009.
"It seems Bolivia has discontinued BITs (bilateral investment treaties) to prevent international tribunals from rendering decisions that can be enforced in the international realm against it by foreign investors," said Marike Paulsson, director of the University of Miami's School of Arbitration Institute. "It has been sued under BITs for expropriation, breaches of concession contracts and using arbitrary means to impair investments in its territory. With this, Bolivia joins the ranks of other Latin American states not wanting to comply with international legal obligations and opting out of international agreements, as Venezuela has done before."
Other arbitration experts said Bolivia's nationalistic government has been aggressively inhospitable to foreign investment and has not always respected its national obligations under investment treaties.
Glencore is represented by Freshfields Bruckhaus Deringer partners Nigel Blackaby of Washington, D.C., and Noiana Marigo of New York, and senior associate Natalia Zibibbo of Washington, D.C. Freshfields is also representing Glencore in an unrelated arbitration in Colombia.