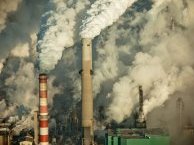 La mayoría de las disputas entre inversionistas y Estados (ISDS) tienen que ver con asuntos ambientales. Las corporaciones usan cada vez más el sistema de ISDS que se encuentra en tratados de inversiones y de comercio a fin de desafiar las políticas ambientales.Para finales de 2019, cerca de 41% de todos los casos llevados ante el CIADI se relacionaron con recursos naturales y energéticos.
Los casos más conocidos incluyen:
• Lone Pine Resources (EUA) vs. Canadá: Lone Pine desafió la moratoria de Quebec a la controvertida práctica de la fractura hidráulica, o fracking, para buscar gas natural. El gobierno provincial de Canadá declaró una moratoria en 2011 con el fin de conducir evaluaciones de impacto ambiental del método de extracción, que es acusado ampliamente del lixiviado de químicos y gases a las aguas terrestres y de la contaminación del aire. El caso sigue en disputa (se invoca el TLCAN).
• Bilcon (EUA) vs. Canadá: la corporación estadounidense desafió los requisitos ambientales canadienses que afectan sus planes de abrir una cantera de basalto y una terminal marina en Nueva Escocia. En 2015, un tribunal de arbitraje decidió que la voluntad del gobierno era un obstáculo a las expectativas del inversionista. Entonces Bilcon obtuvo 7 millones de dólares, más intereses (se invocó el TLCAN).
• Vattenfall (Suecia) vs. Alemania: en 2007, la corporación de energía obtuvo un permiso provisional para construir una planta activada con carbón como combustible cerca de la ciudad de Hamburgo. En un esfuerzo por proteger el río Elba de las aguas residuales desechadas por la planta, se añadieron restricciones ambientales para la aprobación final de su construcción. El inversionista comenzó una disputa arguyendo que haría inviable su proyecto. El caso fue finiquitado en 2011, y la ciudad de Hamburgo accedió a bajar sus requisitos ambientales (se invocó el ECT)
Foto: Kris Krug / CC BY-NC-ND 2.0
(marzo 2020)
The Ecologist | 27-jul-2016
The elephant in the room is here and it is huge: the word "climate" means something totally different in the TTIP papers.
Peru this Week | 25-jul-2016
"We hope that after the decision, the State will concentrated its efforts to provide a sustainable solution to the environmental pollution in the city La Oroya."
El Comercio | 18-jul-2016
Controversia se relaciona a operaciones y medidas de remediación ambiental en el complejo metalúrgico, precisó el MEF.
The Economic Times | 13-jul-2016
Cairn Plc has claimed compensation of $5.6 billion from India in legal proceedings against the retrospective tax demand.
| ... | | | | | 1360 | | | | | ... |